Reported Crop Circles for the State of Michigan -

Mason Township, Livingston County (November 2003)
Another hoaxed 'dumbbell'-type formation. Located less than two miles south of the Howell formation. [Another 'copycat' attempt?] Mechanical damage was found, as well as a length of wire used for the 'board' method of hoaxing. The formation may have been there for more than a month before the farmer spotted it while harvesting.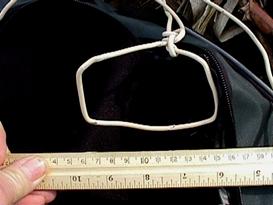 Crop type: corn (maize)
Source: ICCRA
Photos: Jeffrey Wilson

City / County / Date:
Mason Township, Livingston County (November 2003)
New Lothrop, Shiawassee County (June 28, 2006)
Holt, Ingham County
(June 28, 2006)
Hartland, Livingston County
(June 28, 2006)
Dowling, Barry County
(August 5, 2006)
Howell, Livingston County (October 14, 2006)
Amasa, Iron County
(December, 2006)
New Haven Township, Shiawassee County
(October 19, 2007)