Reported Crop Circles for the State of Minnesota -

Green Lake, Kandiyohi County (May-June 1909)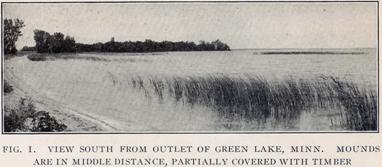 Is this a photo of a crop circle (upper right) from 1909?
In the May-June 1909 issue of Records Of the Past Vol.8 Part 3, in an article entitled "Traces of a Vanished Race in Kandiyohi County, Minnesota" has a photo looking south along the outlet of the lake looking towards a set of approximately 40 ancient Indian mounds and earthworks. In the photo, there appears to be a flattened circle in the marsh grass in the foreground.
This area of Minnesota has had several crop circles in more recent times, including Litchfield, Meeker County in 2004, and the Meeker County 47-circle event in 1974.

Eyewitness report only.
Crop type: marsh grass
Source: "Traces of a Vanished Race in Kandiyohi County, Minnesota", Records Of the Past Vol.8 Part 3, May-June 1909