Reported Crop Circles for the State of New Jersey -

Colts Neck, Monmouth County (August 16, 2002)
A 'dumbbell'-type formation centered on circle with two standing rings; outer ring has half-circle at points opposite. Two additional single circles in field. Farmer discovered while harvesting field.
W.C. Levengood noted high concentrations of magnetic particles in the formation, particularly in the two smallest circles.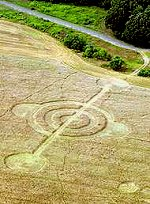 Crop type: wheat
Sources: W.C. Levengood, Report KS-05-124



City / County / Date:
Colts Neck, Monmouth County (August 16, 2002)