Reported Crop Circles for the State of New York -

Medina / Shelby, Orleans County (July 5, 1991)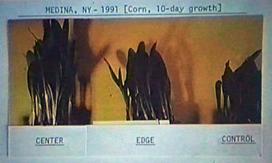 A 20' circle in wheat. The circle was swirled counter-clockwise, but out toward the edges radially. Further investigation showed that an underneath layer was swirled clockwise. The formation was located close to the Neuter Fort Native American burial site. A sighting of a BOL was witnessed the night before the circle discovery. The circle was well-studied by W.C.Levengood who reported crystal changes in the seed heads of the plants, and showed accelerated growth rates in the plants which diminished the father from the center that samples were taken.
NEW INFORMATION COMING IN ON THIS FORMATION
CHECK BACK IN A FEW DAYS!!!
Crop type: Wheat
Source: W.C. Levengood, Pat Delgado



City / County / Date:
Medina / Shelby, Orleans County (July 5, 1991)