Reported Crop Circles for the State of North Carolina -

Jupiter, Madison County (June 21, 2005)

A single, approximately 57' diameter circular ellipse swirled generally clockwise in pasture grass. The only exception was in the lower left quadrant of the circle, one area's flow of the lay changed direction to become counter-clockwise (see 2nd photo left).
The formation was located at the bottom of a steep 500 ft. incline, and only 20-30 feet from the nearby Eller Creek in a very rural, mountainous area. There is no one living within visual range, and in fact there are no houses close by, except for two in the process of being built at the top of the steep slope some distance away.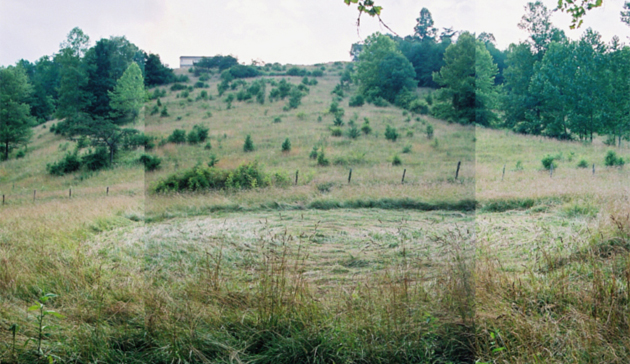 The 'circle' is much more of an oval shape with the dimensions N/S of 51ft 5in; E/W of 57ft 5in; NE/SW of 54ft; and NW/SE of 57ft 5in. The oval shape is apparent from the aerial views. The circle was located at approximately 35º 49.32 N Lat and 82º 36.17 W Lon, and is around 2146ft above sea level.
Tom Ginter of the Center for Paranormal Research and Investigation was the first investigator to evaluate the formation after being contacted by BLT, Inc.; Tom Ginter measured the formation with a TriField E-M meter and with a compass, and neither showed anything unusual. Ginter also conducted a 'magnet drag' for BLT, Inc. with a rare earth magnet and found nothing unusual. Ginter also pointed out that there were, what appeared to be, 4-wheeler tracks leading into and exiting the formation area which didn't seem unusual as riders cross the creek at that spot, but in measuring the widths and spacing of the tracks, they weren't consistent, and they "petered" out at some distance away from the formation. Close inspection of the 'tracks' shed doubt as to if they were really 4-wheeler tracks at all, but perhaps part of the formation itself. This may not be unprecedented, as the 1996 Sugar Creek Township, Ohio formation – also in grass, and of similar size – seemed to have traces of a dual, flattened track in the field which went into and exited the formation, but also 'petered' out in the middle of the field with no sign as to where such a vehicle (if it was made by a vehicle) could have gone to.
ICCRA members Jeffrey Wilson, Delsey Knoechelman, and NC MUFON member Mike Price and his wife Jackie also collected plant and soil samples of this formation, as well as taking full instrument measurements. Nothing unusual was detected with either the TriField meter or GammaScout Geiger counter, although that is not unusual because the formation was not investigated for those measures for approximately three weeks after the date of formation.
This formation, though, did test L-NEAT positive for node elongation.
Crop type: rye
Sources: Tom Ginter, Center for Paranormal Research and Investigation; ICCRA investigation
Photos: Jeffrey Wilson

City / County / Date:
Jupiter, Madison County
(June 21, 2005)