Reported Crop Circles for the State of Ohio -

Broughton / Latty Township, Paulding County (June 27, 1998)
A single 92' diameter circle with an offset center was discovered about 3 miles from the Paulding crop circle discovered in 1996. The farmer's house south of the field and the field were struck by lightning on June 27, just a few days earlier than the discovery of the circle.
The circle was found by the farmer, Brian Roble as he was combining the field and came upon it. He notified the owner Georgia Price who contacted the Sheriff's department.
The Paulding County Progress reported: "Sheriff Dave Harrow said his office received a report of crop vandalism at 6:14 p.m. on July 6. He denied the existence of a crop circle in the county, although he said the vandalism was circular in shape. He said his office has no suspects and because the landowner did not want to press charges, the case is closed."
"Roble said the sheriff came out July 6, compared the formation with those in a book, declared it a hoax and recommended they plow the compression under."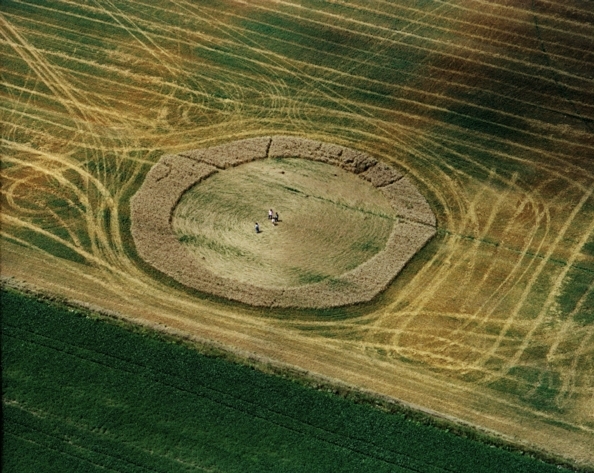 Crop type: wheat
Source: Personal investigation, Roger Sugden
Photos: Roger Sugden

City / County / Date:
Paulding / Jackson Township, Paulding County (July 4, 1996)
Broughton / Latty Township, Paulding County (June 27, 1998)
Fairfax, Highland County
(April 21, 2006)
Eagle Township, Brown County (May 21, 2006)
Newbury, Geauga County
(July 7, 2006)
Sandyville, Tuscarawas County (July 22, 2006)
Bucyrus, Crawford County (August 31, 2006)
Madisonburg, Wayne County (September 1, 2007)