Reported Crop Circles for the State of Tennessee-

Brentwood, Williamson County (June 18, 1999)
160' by 140' diameter formation with the largest circle 90' in diameter. Several 'grapeshot' circles located in the field as well. An 'electrostatic-crackling' noise was reportedly heard by investigators as they were surveying the formation.
A woman traveling on the same road on May 17 at 9:30PM witnessed a black, non-reflective triangular-shaped UFO hovering over a field (some distance from the above report) which may or may not be related to the above event.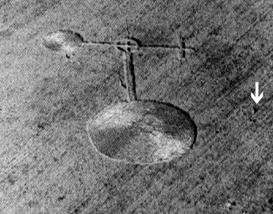 Crop type: grass
Source: Kim Shaffer, Filer's Files #48


City / County / Date:
Brentwood, Williamson County (June 18, 1999)
[South-Central TN], (Fall 2006)