Reported Crop Circles for the State of Virgina -

Prince George County (June 12, 2003)
Eyewitness Ben Keys, Jr. reported seeing multiple balls-of-light 'tumbling' and circling over the wheat field down the hill and across the street from his second story window on the evening of June 12. It was mostly cloudy and drizzling at the time. As Mr. Keys watched, the lights stopped over the field and began circling it. Mr. Keys watched as a blast of pale, blue light shot down from the "lights" to the field below. The blue light blast lasted for approximately second or so, and then this action was repeated 2 more times as the lights continued to circle the field. The lights then shot straight up at an incredible speed, and then disappeared from view. The next morning 'randomly-downed' areas of the field were spotted.
An amateur ghost hunter, Mr. Keys took his TriField EMF meter to the formation and, in his words, "pegged the meter" (over 1,000 volts/meter Electric Field Strength; over 100 microteslas Magnetic Field strength). Tested again several hours later in the afternoon, the meter readings were still exceeding the upper threshold.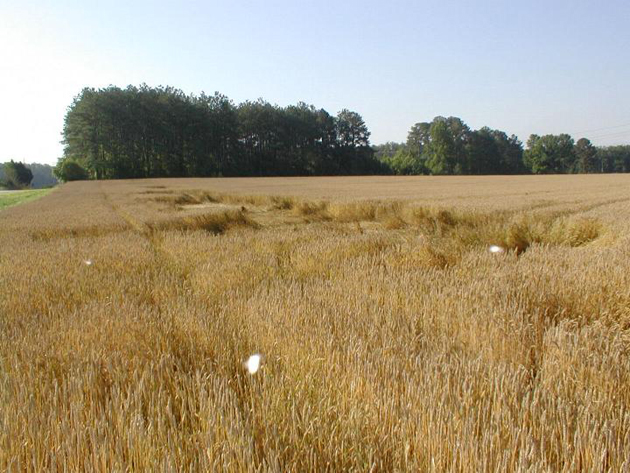 Small 'chrome' spheres were spotted by multiple witnesses flying over the field while investigators were there, and were photographed; however when the photographs came back, they showed only balls-of-light flying over instead. Nighttime balls-of-light were also photographed flying around the field, blinking on and off intermittently.
Mr. Keys noted a scarcity of insects in the field despite it being located adjacent to two swamps. High tension power lines run the length of the field.
The area adjacent to the field has a high-tension power line running the length of the field, and approximately 500 feet on either side of the flattened areas are two swamps. Prince George County reportedly has one of the highest concentrations of Native American mounds in the state of Virginia.
Crop type: wheat
Source and Photos: Ben Keys, Jr.