Reported Crop Circles for the State of Wisconsin -

Mayville, Dodge County (July 6, 2005)
Two formations were found side-by-side in a wheat field just south of the town of Mayville on a hillside facing Highway 28, the main road between the towns of Mayville and Horicon.
The Dodge County Sheriff's Department was the first to be allowed into the formation and reported finding muddy footprints tracked onto the tops of the plant lay, post holes in the centers of the circles, and a pathway between the two formations where "it looked like someone had dragged a board" (see 2nd photo).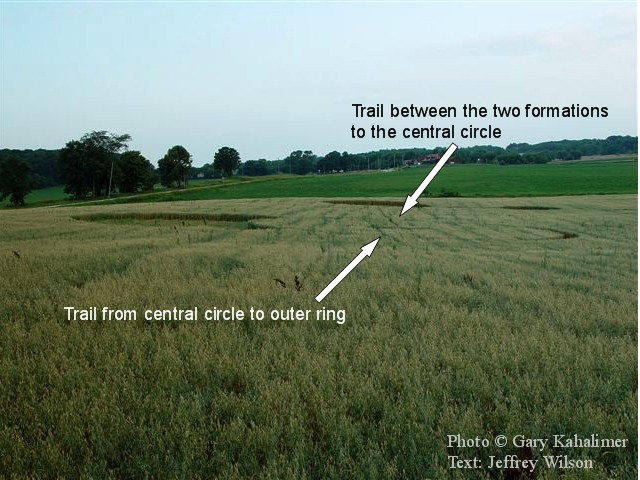 These details were confirmed by local resident Gary Kahalimer, ICCRA, who also gained access to the formation and took these photos.
Since the July 4, 2003 eyewitness sighting of a crop circle formation in the Mayville-Kekoskee area, there have been several hoaxed circles in this area.
Crop type: wheat
Source: ICCRA investigation, Dodge County Sheriff's Department, Gary Kahlimer
Photos: Gary Kahalimer, ICCRA