ICCRA Member Profile: Roger Sugden
ICCRA Founding Member & Board Member
As a photographer, Roger has visited many different parts of the world. These journeys have been to many places, from South East Asia, Australia, Nepal, India, and much of Europe.
"This has given me a unique perspective to be able to see how peoples of very different cultures live and to be able to interpret this into photographic images"
In 1988 he was a photographer on an expedition to the Himalayas, resulting in a PBS documentary - "White Lotus." Roger has been on many radio interviews regarding crop circles and ufos, and TV programs such a Sightings (Paulding OH) and UFO Hunters for the History Channel (Sept 2008), and has taught the first UFO course at the Indiana Purdue University in Indiana.
Other Affiliations:
- Roger was the Assistant State Director and Chief Field Investigator for Indiana MUFON for 15 years.
Roger is a professional photographer and artist.
Many of his 3D mixed media work has been greatly influenced by the crop circles and they have been exhibited widely and some are in private collections.
His artwork can sometimes be said to depict crop formations in 3D.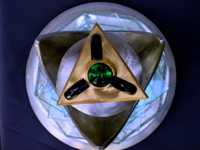 This piece is Shapeshifter and the picture on the right is looking down from the top of the piece.
His sculptures also have an interseting functionality with light. Roger enjoys capturing and manipulating these beautiful reflections.
All of Roger's artwork, sculptures, and photographs are for sale by contacting Roger Sugden.
No images may be reproduced or used in any way without permission from Roger Sugden.