Reported Crop Circles for the State of Ohio -

Austinberg / Ashtabula, Ashtabula County (August 30, 1992)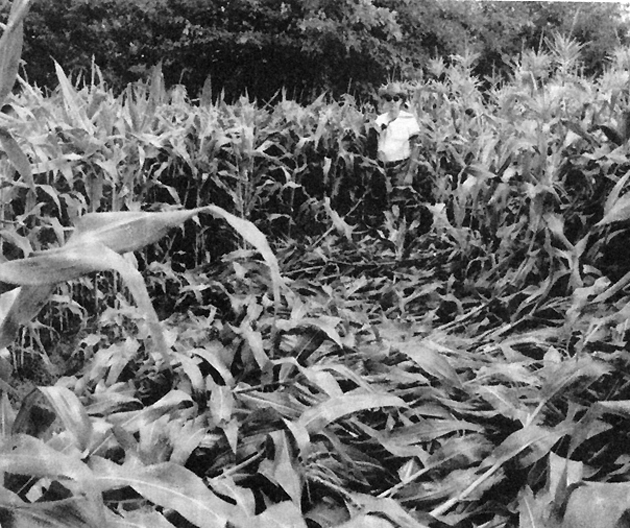 Upon returning home from a several-day trip, farmer Donald Wheeler (pictured above) discovers a 25' by 8' flattened rectangular area in his corn field located along Route 45. The cornstalks were flattened all in one direction: perpindicular to the planted corn rows. None of the stalks were broken, just bent over a few inches off the ground, with none of the corn ears touched. Wheeler searched for signs of entry, but found no evidence of either human nor animal tracks anywhere around.
Samples were sent to biophysicist W.C. Levengood who found abnormal seed and ear development in the formation samples:
[Indication of accelerated tassel development in formation plants.]
[Ear re-growth at the apex of a formation sample showing an earlier suppression of embryo growth.]

Crop type: corn/maize.
Sources: "Who's Been Sleeping In My Cornfield?," Star-Beacon, September 2, 1992; W.C. Levengood Pinelandia Biophysical Lab report #12 (KS-01-64), November 21, 1992
Photos: © 1992 Carl E. Feather, W.C. Levengood

City / County / Date:
Austinberg / Ashtabula, Ashtabula County
(August 30, 1992)
Paulding / Jackson Township, Paulding County (July 4, 1996)
Fairfax, Highland County
(April 21, 2006)
Eagle Township, Brown County (May 21, 2006)
Newbury, Geauga County
(July 7, 2006)
Sandyville, Tuscarawas County (July 22, 2006)
Bucyrus, Crawford County (August 31, 2006)
Madisonburg, Wayne County (September 1, 2007)